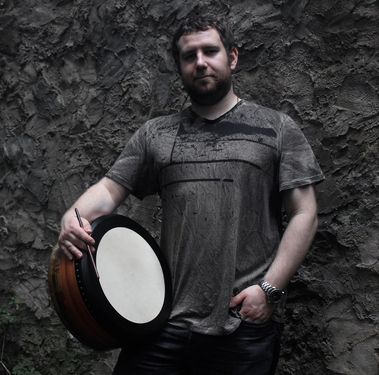 Jacob McCauley is an award-winning Bodhrán player (Toronto Fleadh Music Competition, March 2008), Detroit Midwest Fleadh May 2008, 2009) and most recently winning first place in the Chicago Midwest Fleadh (2010). Based in Toronto, he is an active recording musician, performer and touring artist, having played with many different groups of multiple genres around the world. Jacob has been featured in several publications over the years including a 5-page feature article in the November 2011 issue of DRUM! Magazine, a 3-page feature in the January 2013 issue of The Living Tradition Magazine as well as recently featured article in the December 2017 Issue of Celtic Life International Magazine.
Jacob's unique Bodhrán technique has allowed him to more recently branch out from traditional music into other genres such as Jazz, Rock, Pop, Metal as well as Experimental/Fusion and World Music. Utilizing his innovative back hand technique (precise tonal control and melodic range) and tipper hold (integrating traditional and more modern influences such as the single-ended styles into his own distinctive hybrid style), Jacob has begun to incorporate a much larger range of melodic notes, as well as intricate, complex and odd time signatures such as his favourite 5/8 and 7/8.  He has currently finished several tours with NUA following the release of their debut album entitled BOLD (released on October 14th 2013) and released their highly anticipated second album entitled FLOW on June 5th 2016. 
Throughout his career some of the artists he has performed and/or recorded with include the multi award-winning Irish band "The Chieftains", 5 time Juno award winner and Grammy nominated Canadian Rock group Glass Tiger, award-winning Scottish band "Lau", award-winning Quebec based "Genticorum" Award-Winning Irish flutist Nuala Kennedy, 3 time All Ireland Champion Irish fiddler Maeve Donnelly, several time Canadian and US National Fiddle Champion Shane Cook and 2 time Canadian Grand Masters Fiddle Champion Julie Fitzgerald.

Jacob is also an experienced Bodhrán instructor, having taught many classes, workshops and private/group lessons around the globe. He is also a faculty member at the Riverside Celtic College teaching Beginner and Intermediate/Advanced Bodhrán.
NUA's Second Album Available Now!
0:00/4:08

0:00/6:21

0:00/7:22

0:00/3:10

0:00/3:24

0:00/5:30

0:00/3:36

0:00/4:08

0:00/3:52

0:00/3:21

0:00/3:18